Sales and Marketing
I must admit that I have an interest in a lot of things about Japan and the Japanese. And I think I'm not alone. It may be the past the twentieth century now, but samurais and ninjas are still very much popular cultural icons all over the world...
Being usually one of the shortest person in a group of people, I'm continuously reminded by myself of just how short I am and how it affects my daily activities in life. Like it or not, there are disadvantages to being a short person...
It is undeniable. Whatever product you have, the most important question that you should be able to answer is this: "Is there a demand for my product?" You might have the best and cheapest product out there, but if no one buys it, then your business would fail...
Selling is a very essential skill that every person needs. You might not be selling a product but you still need to sell yourself. I have met a few saver type personalities before and selling anything to them always requires you to highlight the economic side of things...
Many people want to manufacture their own products because of the perceived control it gives them. People also have an inherent want to create something. Being a distributor is also sometimes looked upon as you mostly have to deal with customers which could be at times taxing and irritating if you are not a people person. So who would you be?...
Make no mistake sales is a hard job to do. People do not like parting with their money. Customers want the best quality products for as little cost as possible even for free. Sales people especially those with sales quotas will usually go the extra mile to please a client just to have a sale especially if it is a high ticket item...
What is Multilevel Marketing or MLM? It is a strategy employed by some direct sales companies where they reward existing distributors to recruit new distributors. This recruitment process repeats itself over and over again...
People are very visual beings. There is a saying that Looks Do Not Matter but this is simply not true. People to a certain degree will judge you by the way you look. My experience in sales and based on the online articles I read online point to the fact that this is true. You may not be able to change the way you look but there are certainly a few things you can do to reverse this...
There is an article I read quite some time ago where a failing restaurant owner from Texas decided to put a statue of a sexy cowgirl in front of his restaurant in the hopes of drawing the attention of truckers who pass by his restaurant. The cowgirl was dressed in working gear complete with a cowboy hat, boots and short jeans...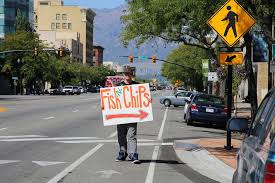 A good way for a store or business to attract attention from passersby is by using sign holders and spinners who would direct potential customers into their store or business. Not many businesses employ these kinds of marketers and these is the reason why many people take notice. They just stand out from the normal surroundings people are used to seeing...